Spend the Day Hiking, Biking and Paddling on a Port Oneida Fall Color Tour
Photo(s) by Todd Zawistowski
Port Oneida in Sleeping Bear Dunes National Lakeshore is known for its rustic barns and golden fields strewn with wildflowers set against a backdrop of hardwoods. Spend a day exploring this rural historic district on a Port Oneida fall color tour.
Check our fall color map every week to find out where peak foliage is!
---
A peninsula, as all Michiganders know, is a chunk of land surrounded on three sides by water. Almost an island, but technically mainland, as a map clearly, unequivocally proves. You can drive onto a peninsula, walk onto one, no getting wet. Mainland, without doubt.
So the curious thing about a peninsula is that psychologically, culturally, vibe-wise, a peninsula somehow becomes more island than mainland. And the further you reach along its length, the more island it becomes. Geographic structures take on iconic status. If there's an inland lake, it becomes THE lake. If there's a bluff, it becomes THE bluff. If there's a camp, it becomes THE camp. And as with islands, just by being on a peninsula, everything is somehow imparted with a distinctiveness. This is true of the people there as well.
Port Oneida in the Sleeping Bear Dunes National Lakeshore is just a tiny bulge of a peninsula that juts north into Lake Michigan, and on a map is shaped something like the blunted fin of a shark that's swimming east.
The entire peninsula covers maybe six square miles, but it perfectly embodies this island sense of distinctiveness: THE unbelievable bluff overlook (Pyramid Point); THE idyllic little lake (well, two of them: Shell and Narada); THE evocative collection of historic farms; THE winding country road. THE easy to follow forest path. THE Great Lake Shore to wander for miles. You could spend a life here on this patch of ground, thinking of it more as your own little island, heck, your own little planet, and not tire of revisiting the beautiful things.
Autumn is, naturally, the perfect time to take a weekend and explore the charms—follow our advice and go.
Photos by Todd Zawistowski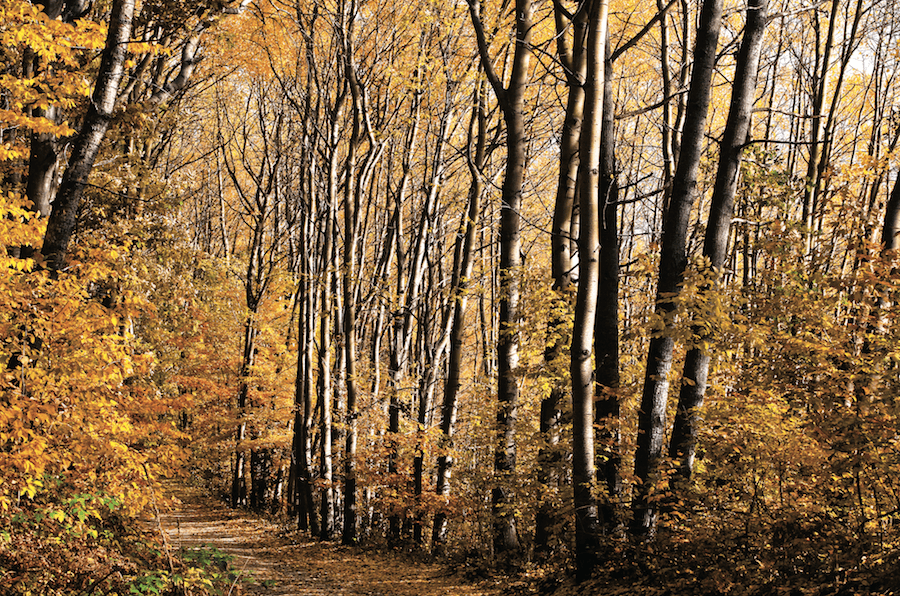 Hiking
Bay View Trail: Find the trailhead off Thoreson Road, on the peninsula's southwest side, for this hilly 8- mile trail that meanders past old farmsteads and Lake Michigan views. Along the way, stop at the Charles Olsen Farm—headquarters of Preserve Historic Sleeping Bear.
Pyramid Point Trail: This 2.7-mile trek heads to Pyramid Point lookout, delivering an unforgettable view of South and North Manitou Islands. Find the trailhead on Basch Road, just east of where the road doglegs at Camp Leelanau Kohahna.
Historic Farms
Today, Port Oneida, just a couple miles northeast of Glen Arbor, is protected not only as part of the National Lakeshore, but also as a historic district. So the first thing you notice when you cross into the peninsula realm by turning north from M-22 onto Port Oneida Road or Basch Road, are classic farmsteads, some dating back to the 1800's, their collections of outbuildings still standing prim (the milkhouse, the chicken coop, the wagon shed, the shop, the granary, the barn, the ice house, the outhouse, the main house— farmers like buildings).
Many reveal the signs of recent improvements—shiny metal roofs, fresh planks—as the park continues its campaign to keep the buildings on the landscape. A few of the farms are still privately owned, so be careful not to trespass, but feel free to wander the grounds of farms owned by the park.
Learn more at the interpretive center run by Preserve Historic Sleeping Bear, in Port Oneida's Olsen House, 3164 W. Harbor Hwy (M-22), 231-334-6103. Fall hours are unpredictable, but weekends often have docents on duty.
Fishing
Shell Lake, tucked into the forest in the northeast portion of Port Oneida, makes for a beautiful evening of fishing. Follow the winding two-track through the forest on the lake's east side to the launch. Well, not so much a launch, because you'll prob- ably have to carry your boat to the shore over 50 feet of sand. But that's what makes it good. No motors, small boats. Decent smallmouth bass action. A marvelous place to be on the water as sunset evolves to an orange and turquoise dusk above the ridge, and then dims into night.
Biking
The Sleeping Bear Dunes Heritage Trail extends through Port Oneida offering a beautiful ride through the historic district. Most of Port Oneida's roads are gravel, so cyclists are advised to ride their fat tires. Also, know that bikes are not allowed on the hiking trails—you must stay on roads that cars are allowed on. Only about 10 miles of roads trace Port Oneida's lovely but compact geography, so avid cyclists will want to clock some miles along M-22, which is also beautiful, but can get busy during peak tourism times, like fall color season. For an M-22 cycle outing, we suggest early morning.
Paddling
Port Oneida's two small inland lakes, Shell and Narada, make for easy, drifting, poke-around-and-examine-stuff kinds of experiences, and are wonderful for that. But the more obvious draw is the big water of Lake Michigan. Launch from anywhere a road reaches the shore. Find the most popular put-in at the northern end of Lake Michigan Road, at the bottom of Good Harbor Bay. The giant lobe of Pyramid Point protects the water here from blowing westerlies; good to know if you are looking for some quieter water on windy days. We're compelled to state the obvious: weather is unpredictable come fall (remember the Edmund Fitzgerald?), so pack the right gear, know your limits and keep an eye on the horizon.
Reading
Get to know the stories of some of the distinctive people who lived in and farmed Port Oneida through a set of publications called Images and Recollections from Port Oneida, based on oral history interviews conducted by longtime National Park ranger Tom Van Zoeren. Specific titles include: The Burfiend and Baker Farms, The Werner Farm and Its Neighbors and The Thoreson Farm and Its Neighbors. Rich perspective on remarkable people in a remarkable place. At local booksellers: Cottage Books, Glen Arbor; Horizon Books, Traverse City; Visitors Center of the Sleeping Bear Dunes National Lakeshore, Empire. Or vzoralhistory.com.
Lodging
Fine Dining
Many inspired choices for fine dining near Port Oneida—that cuisine-in-the-countryside feel, outstanding menu choices.
Casual Dining
This story was published in the October 2010 issue of Traverse, Northern Michigan's Magazine.
Get your copy!
---
More Northern Michigan Fall Color Tour Ideas