A Historic Charlevoix Cottage Gets a Thoughtful Renovation
Photo(s) by Dave Speckman
This classic Charlevoix cottage is an 1880's beauty.

Contractor


Birchwood Construction, 231.439.1600

Fortunately for the homeowners, this wasn't builder Ken Provost's first rodeo. Their Belvedere Club cottage was a beauty with 1880s charm in a priceless location; of course, it needed work. But before the reno could take one step forward, the crumbling foundation would need to be dug out and completely redone—only after running steel columns to stabilize the home, adding 4X4s beneath it, Jenga-style, and lifting the entire 5,000-square-foot two-story home about eight feet in the air.

The husband and wife duo had called on Ken, of Birchwood Construction, because he'd already helped her brother with a near identical job on his home, also a cottage in Belvedere.

"It was a huge undertaking," Ken says, "but it was worth it. It's not about square footage and amenities; it's about the history and the location. These homes rarely come on the market, because they more or less get passed down through families, and if they do come on the market, one of the families that has been there a while usually scoops it up."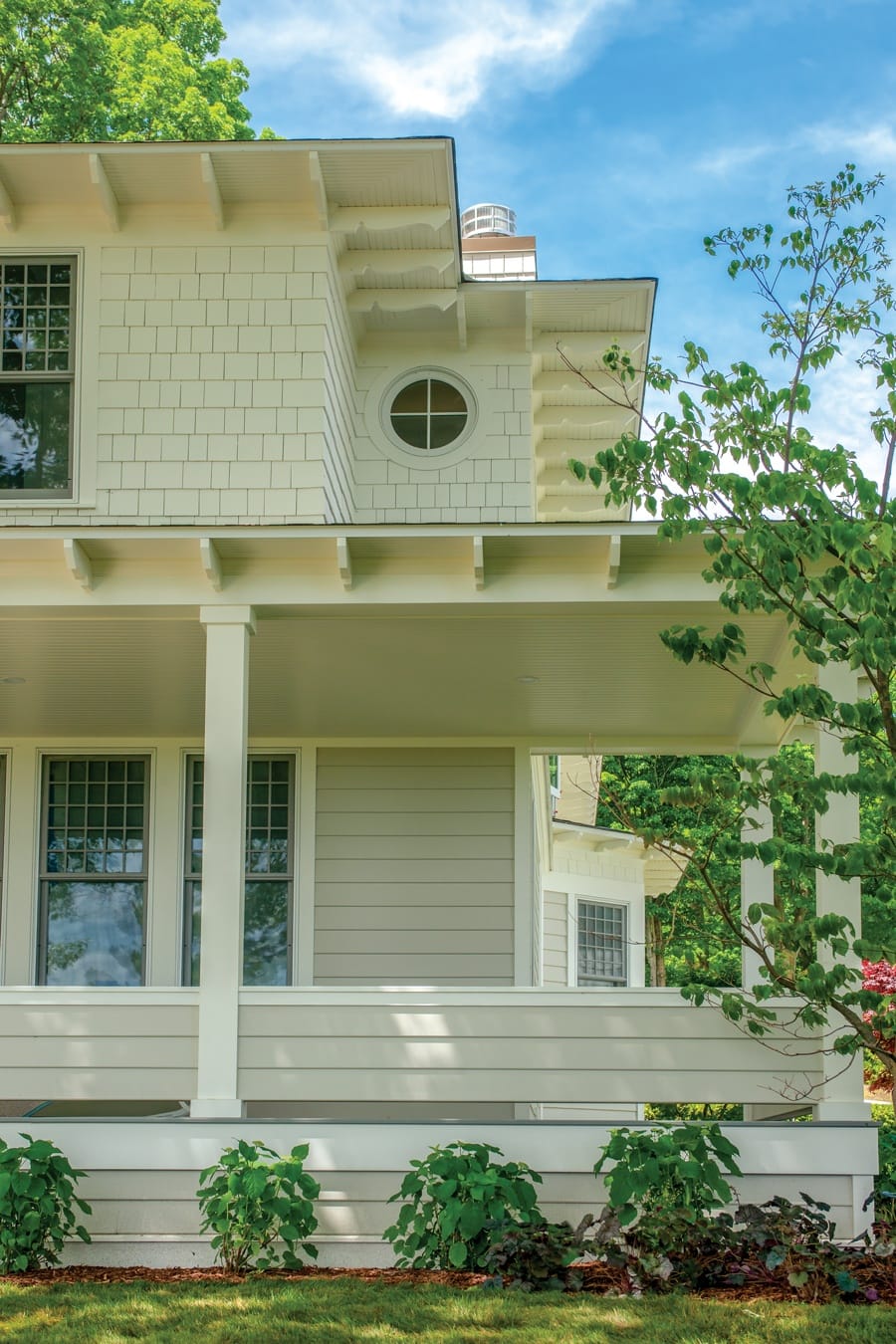 The wife had been spending summers at her parents' Belvedere cottage since she was a child, so it was important that her teenage children also get the chance to enjoy what she did: lounging on the porch, riding bikes, roaming wild with cousins, a summer filled with sailboats and relatives and not a screen or a TV in sight.
The cottage was purchased furnished from its elderly owner, and the family opted to keep the wicker porch furniture, the glider sofa, and the sweet collection of owl lamps and knick-knacks that filled the cottage to pay homage to its history. Because the enclave is on the historic registry, Ken couldn't make changes outside and had to work within the confines of the exterior walls.
But inside? That's another story. The floor plan was totally re-imagined and the entire home was taken down to the studs and rebuilt. "There's hardly any dry wall in the place," Ken says. Instead, custom white tongue-and-groove paneling reigns supreme. "It's white. As white as you can get," he says. The interior is the work of designer Rhea Crenshaw out of Memphis, who worked to keep a lovingly broken-in cottage feel. "Seeing it all assembled into the home, it's really very cool," says Ken.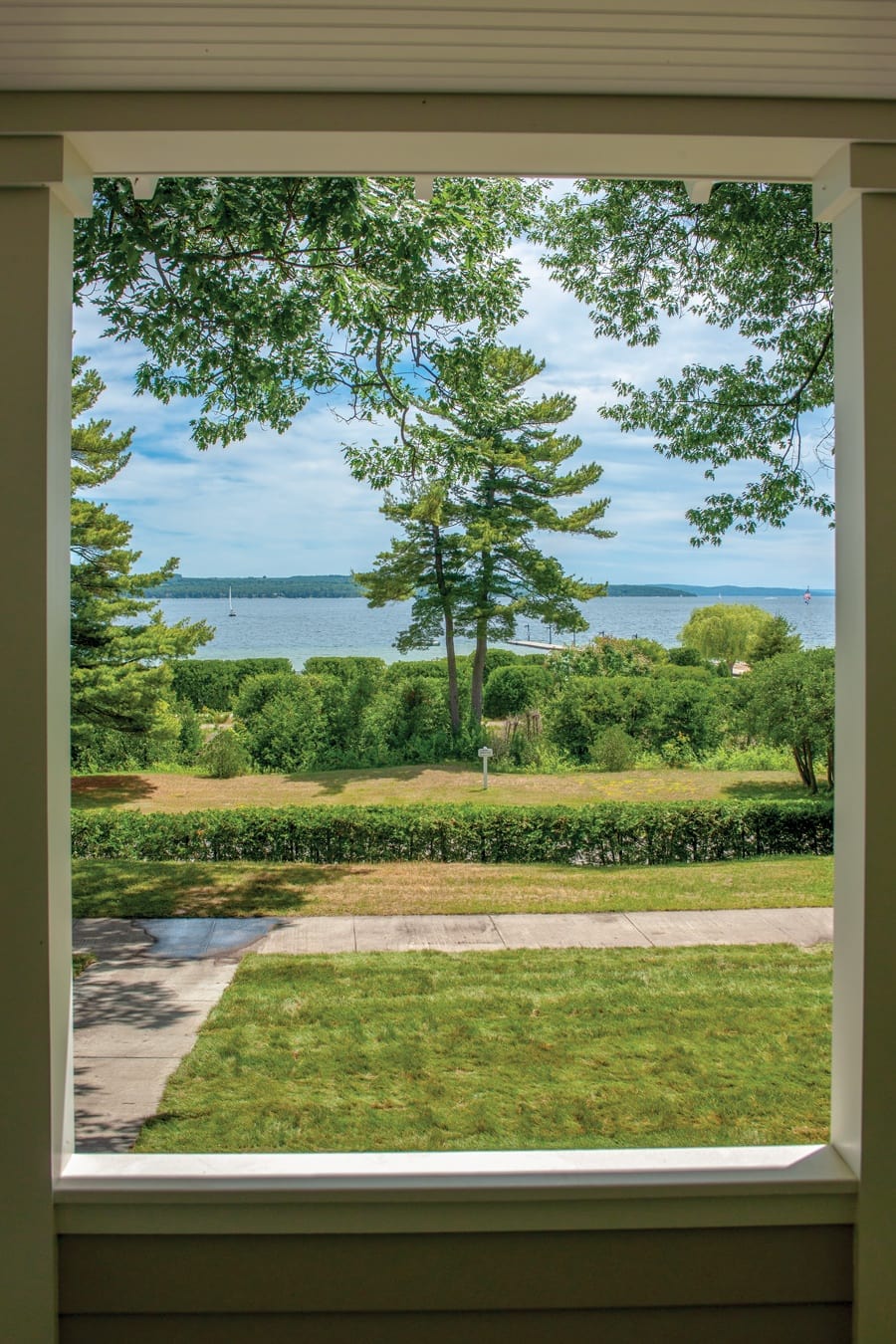 Ken particularly loves how the kitchen turned out. "For whatever reason, kitchens are a big deal to me; I love good kitchens. Probably because I like to eat," he adds. Tearing out the original walls, he was able to vastly re-imagine and expand the space to include a huge island, and gorgeous backsplash tile that riffs on the historic look from the era of the home.
The final result is a mix of old and new, the family's minimalist sensibilities blending with a soft, cottagey homage to the way things have always been around this stretch of Lake Charlevoix.
Find more renovation inspiration on the Petoskey Area Home Tour September 15. Tickets are available on MyNorthTickets.com. 
Click the cover for a sneak peek of the homes on the tour!